Well, I am very particular about the food I prepare and the way it should taste.......Cooking comes as a part of my gene, thanks to a wonderful cook my dad has been......... Though I like a variety of food, I am very particular about the way it has to be prepared...........
Since I grew up in Maharashtra, my mom and dad introduced us to a variety of dishes....It included chinese, south indian, north indian, maharashtrian, gujrathi, rajasthani......... My dad is so amazing ,he would be always travelling thanks to his job and he would taste new dishes and come and experiment at home............
Well today I went shopping with my mom for her monthly grocery and few spices I needed to prepare the Sabzi masala (vegetable masala)..... I use it a lot to prepare the regular vegetables the maharashtrian way, since my hubby likes the taste of it.........and all my cooking is devoted to please him....... As they say ," A way to man's heart is way through his stomach"
Anup does not have good apettite but never complains or is fussy about what he eats..... To contrary, I am very particular to what I eat and also how it has been prepared..... I like things a little spiced up and chatpata, he can have extremes from the palest dal straight from cooker to spiciest pani puri......... But he is very supportive of what I prepare and never wastes food, for which I respect him a lot..... He has this sweet tooth and I just did not know how to prepare any sweet when we got married........ slowly i learnt how to prepare, Gulab Jamoon, then laddoo, then kheer, now would be trying out besan laddoos for Dasera.........
I had chance and time to pick up few veggies from Gandhi Bazaar, an amazing place to shop all types of veggies, fruits and flowers in Bangalore..... Its all fresh and in abundance....... I managed to pick up almost 6-7 varietes of veggies all in just 80 rupees...... Not a bad deal at all, in the times of price rise.......
So I had already planned what I would prepare for dinner and just wanted right combination of veggies to go with the parantha I was preparing........ Since I like to learn new things and prepare it at home, I learnt how to prepare Palak Parantha........I read this from the book written by a famous chef in India, Sanjeev Kapoor .......The receipe is mentioned at the end of the blog....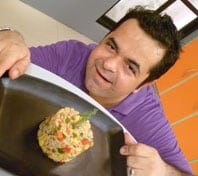 I have started watching all types of cooking show..... Since I am pure vegeterian ( I eat egg only in cake,else no no....my mom does not even eat that), I like to see all veggies cooking show...... lately I have started watching this cooking show on NDTV Good times, called "Gourmet Central" hosted by Vicky Ratnani.........He also hosted "Do it Sweet" with Maria Goretti, famous MTV VJ....... To be really honest I find his cooking interestng but the only choice of words he has is lovely, beautiful, perfect, where is my hatoda( where is my hammer, apparently he calls the pepper crusher as his hammer).I just mute when watching and learn whatever he is cooking........ I liked his episode where he cooked Spanish food.....
One of my hobby is cooking and hence, you guys would read a lot of receipes apart from my takes on fashion, current topic, relationships, life, etc.........
Love,
Preeti.
Here is the receipe of Palak Parantha for you guys.......
Ingredients:
1 bunch Palak (Spinach)
2 cup Wheat Flour
2-3 Green Chillies or as per taste
salt to taste
4-5 garlic pieces (optional)
1/2 tsp jeera (cumin seeds)
oil/butter for frying
Preparation:
Wash and clean the palak(spinach). Keep 3-4 leaves aside.
Boil loads of water in a vessel and add left cleaned palak(spinach),salt to it, turn the gas off and cover the vessel. Leave aside for 10-15 mins. Allow this to cool.
After that drain the palak(spinach) and puree the palak(spinach) in a blender along with the green chillies, also add garlic(optional).
Chop the 3-4 Palak(spinach) leaves coarsely.
To wheat flour add salt, jeera , chopped palak(spinach), palak(spinach) puree. Make a dough of these ingredients.
Divide the mixture into 7-8 lemon sized balls.
Roll the parathas, preferably square or triangular in shape, and shallow fry them on a griddle (tawa) on medium flame.
Serve with dahi/butter/ketchup/thecha....
Try this at home and let me know through comments how does this come out........